A survey revealed that President Rodrigo Roa Duterte maintains the highest approval and trust ratings compared to other top government officials in the Philippines amid the COVID-19 pandemic.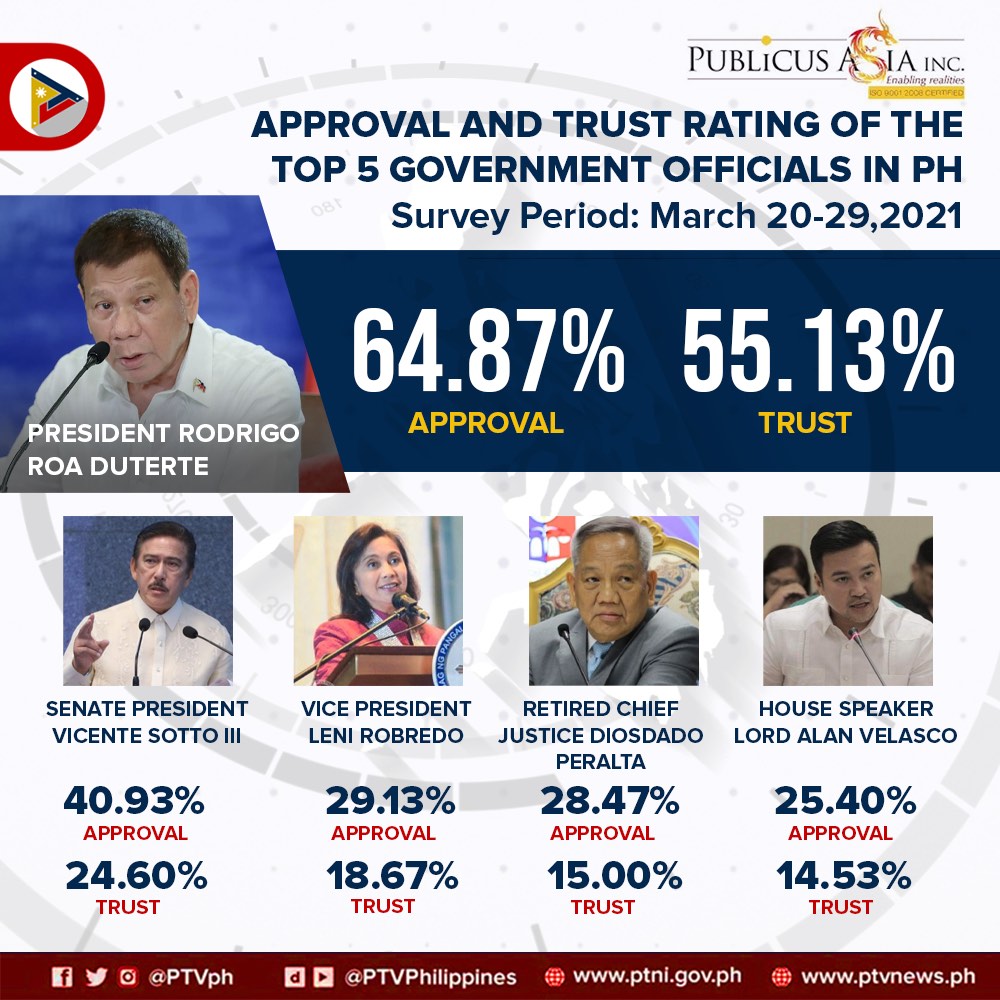 In the survey conducted by PUBLiCUS Asia, the President garnered a total approval rating of 64.886% for the first quarter of 2021. He was followed in the ranking by Senate President Vicente "Tito" Sotto III with 40.934%, with Vice President Maria Leonor "Leni" Robredo coming in third at 29.134%.
Retired Chief Justice Diosdado Peralta came after the VP with 29.134%, and House Speaker Lord Allan Velasco placed fifth at 25.4%.
Moreover, the Chief Executive received a total trust rating of 55.133%, followed by Sotto with 24.6%, Robredo in third with 18.667%, former CJ Peralta in fourth with 15%, and Velasco fifth with 14.533%.
PUBLiCUS Asia said their survey was conducted from March 20 to 29, 2021 nationwide with 1,500 respondents from an online research panel.
"PAHAYAG-QUARTER 1 (PHG-Q1) is an independent and non-commissioned poll done by PUBLiCUS Asia, Inc. covering the period of 20-29 March, 2021. It is a nationwide purposive sampling survey [comprising] 1,500 respondents drawn from an online research panel of approximately 100,000 Filipino registered voters maintained by a Singapore-based firm," the survey group said.
Meanwhile, Presidential Spokesperson Harry Roque expressed gratitude to the Filipino people for giving President Duterte the highest approval and trust ratings.
"The latest survey results send a clear message that our people are generally happy with the leadership and performance of the President. This strong public confidence would certainly motivate and inspire the President, along with the members of the Cabinet, to work harder to serve the people, especially during this time of global health crisis," he added.
Report from Mela Lesmoras/NGS-jlo